Dr. Charles Weedon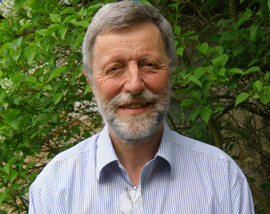 Biography
After leaving the Royal Navy, Charles Weedon trained as a teacher at Moray House College of Education, Edinburgh.
He worked in Shetland and in Fife as a secondary teacher of Maths and English, before becoming a Support for Learning teacher and Principal Teacher, first in Fife, then Tayside, then in Edinburgh, where he worked with children across the whole school-age range.
He gained his MEd (with Distinction) at the University of Edinburgh, winning a research prize from the Scottish Council for Research in Education for his dissertation, "The Diagnosis of Writing Skills", before obtaining his Diploma in Special Educational Needs at Moray House. His PhD "Expository Reading in Schools: the nature of pupils' difficulties in learning from text" led to an increasing interest in understanding and responding to specific learning difficulties.
Whilst working with his own pupils in school, he has also pursued a variety of research and professional development interests, including research into specific learning difficulties in mathematics (as a Visiting Scholar with the Institute of Education, University of Stirling); devising and delivering an MEd unit on specific learning difficulties; and developing and publishing a number of diagnostic assessment approaches. Charles was elected to Associate Fellowship of the British Psychological Society in 1997.
He is an Associate Fellow of the British Psychological Society.
He is a registered Educational Psychologist with the Health Professions Council.
He is an Honorary Fellow at the University of Edinburgh.
He served for some years on the Care and Education Committee of The New School at Butterstone, a specialist residential school for children with difficulties.
Retired as Head of Support for Learning at George Watson's College, Edinburgh, he now works as the school's educational psychologist, while pursuing his research and development interests and working as an independent psychologist, both directly for families in Scotland and abroad, and for the Additional Support Needs Tribunal Scotland through the Govan Law Centre.
He was a member of the Steering Group for the Scottish Government/ HMIe 2008 report on "Education for Learners with Dyslexia".
He is a co-author of the Dyslexia Scotland and Scottish Government's "Assessing Dyslexia Toolkit" (www.frameworkforinclusion.org/AssessingDyslexia/)
Publications
Weedon C. (1987) A Room of their Own: Workbases at Ballingry Junior High School in Booth, T, Potts P., Swann W. (eds) Preventing Difficulties in Learning - Curricula for All Blackwell
Weedon C. (1993) Specific Difficulties and Mathematics in Reid, G., (ed) Specific Learning Difficulties (Dyslexia) Perspectives on Practice Moray House Publications
Weedon C. (1994) Learning Difficulties and Mathematics in Riddell, S, Brown, R, (eds) Special Educational Needs Policy in the 1990 Routledge
Weedon C., (1996) Specific Difficulties and Mathematics in Reid, G., (ed) Dimensions of Dyslexia Volume One Moray House Publications
Weedon, C., Reid G., (2001) The Listening and Literacy Index (LLI) Hodder and Stoughton
Weedon, C., Pringle, M., Coventry, D., Rifkind, H., (2001) Supporting Students with Dyslexia in the Maths Classroom in Peer, L., Reid, G., (eds) Dyslexia - Successful Inclusion in the Secondary School David Fulton
Weedon C. Reid G., (2003) Special Needs Assessment Profile - Specific Learning Difficulties v.1 (SNAP-SpLD) Hodder and Stoughton
Version 2 (2005)
Version 2.5 (2006)
Version 3 (2008)
Edwards, G., Weedon, C (2006) Our Core Business - a collaborative experience in Trafford, B., (ed) I2 = independent + innovative John Catt Publications
Long, R, Weedon C. (2006) Special Needs Assessment Profile - Behaviour v.1 (SNAP-B) Version 2 (2008)
Weedon, C., Reid, G., Long, R., (2011) SNAP-Together Hodder Education
Weedon, C., (2012) The potential impact and influence of the social model of disability in Peer, L., Reid, G., (eds) Special Educational Needs: a Guide for Inclusive Practice Sage (2012)
Weedon, C., Ruttle, K., (2012) SNAP-Infant Check Hodder Education
Weedon, C., (2013) Special Needs Assessment handbook for Specific Learning Difficulties - how to identify and address barriers to learning HodderEducation
Weedon, C., 2 nd edition (2016) The potential impact and influence of the social model of disability in Peer, L., Reid, G., (eds) Special Educational Needs: a Guide for Inclusive Practice Sage
Weedon, C, Reid, G, Ruttle, K, Long, R, (in press) a fully revised and on-line edition of the SNAP portfolio - title to be determined - HodderEducation/ Rising Stars (in press for 2017)